Fall is officially upon us and winter will be here soon enough. So this travel post is an ideal inspiration for a winter getaway down to the southern hemisphere where they're having their spring/summer season. I've had the pleasure of visiting Sydney and the surrounding beach towns. We didn't have a chance to visit Melbourne, so I couldn't be more excited to get some local tips from
Nancybird
founder Emily Wright about her hometown of
Melbourne
and Australia. Plus it's giving me an excuse to go back and check out this amazing country.
Nancybird Studio Photo by

Tony Owczarek
You're currently based in Melbourne. What are "must see" things or "must do" for those visiting your hometown?
Melbourne is perhaps not as beautiful as other Australian cities like Sydney or Hobart, but it's a great place to live. I think the geographic isolation means that an interesting culture can form which is slightly different from anywhere else – I think Melbourne has that.
Must see – Sarah our textile designer has suggested Federation Square for the paving (!!) and the dome in the State Library…
The laneways in the central business district (CBD) are full of tiny cafes and design stores.
Eating at Movida – best Spanish in town! And it's on Hosier Lane which is full of incredible street art too which is definitely worth a look.
Ceres – a community garden right next to Nancybird HQ.
Taking the last person-operated lift in Melbourne to the upper floors of the Nicholas Building, to visit one of the many jewelers and designers' studios in the beautiful old building.
Movida in Hosier Lane – artwork by Lucas Grogan. Photo c/o Broadsheet Melbourne
What are off the beat path local hangouts? Favorite neighborhoods, parks, etc.?
I live and work in Northcote. It's about 7 kms from the city and I love it. I like walking along Merri Creek, there are some sections that feel like you are in the bush. High St is the main shopping strip, we head to Gringo Vibes quite often for good Mexican.
Favorite places to shop: boutiques or outdoor markets
Mr Kitly in Brunswick is a very cute little store, upstairs on Sydney Road. They sell beautiful ceramics, indoor plants and other "home" things.
Melbourne has a packed schedule of design markets – I don't head to them often but they do support a bunch of local businesses, which is great! Finders Keepers, Markit, The Big Design Market, Rose St Artist's Market, Melbourne Design Market, Craft Hatch, The People's Market are just a few!
Mr. Kitly image via
Favorite places to eat-cafes, restaurants or type of food:
I've already mentioned Movida for Spanish…
Other goodies – the Vegie Bar in Brunswick St Fitzroy is an old favourite (they must have been there for 20 years!) – still packed every night serving fresh vegetarian food.
Really good Japanese at Kumo in Lygon St East Brunswick…
Oh! And the BEST jam donuts at Preston Market – 90 cents each, a bargain!
Easy day trips from Melbourne -cool places to see right outside the city:
A round trip to Daylesford, Kyneton and Woodend – all have really nice cafes and vintage stores, and the colors in Autumn are beautiful (a rarity in Australia as our native trees aren't deciduous).
A trip to the beach would also be needed – I would head somewhere close like Barwon Heads, there are some wild beaches there that feel like you're a million miles away.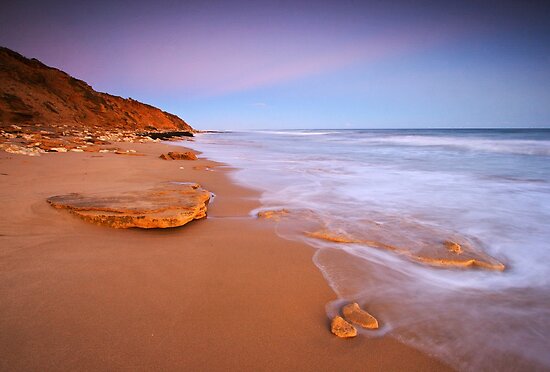 13th Beach at Barwon Heads by Darren Stone via
Favorite local designers or makers:
I'm lucky to have some very talented friends! LoveHate makes cute things – jewelry, shoes and tights, Bridget Bodenham does the loveliest ceramics, The Gently Unfurling Sneak does really nice digitally printed tunics, I could go on…
Favorite local musicians and places to watch concerts/bands:
Melbourne has a few outdoor festivals like Golden Plains a couple of hours out of the city which are a great backdrop for watching music in the sun.
Best way to get around the city:
Bike or tram, definitely. The number 96 tram line goes through East Brunswick, which has a bunch of great eateries, down past the stunning Royal Exhibition Buildings and Gardens in Carlton (where Australia became a federated nation in 1901), through the centre of town (Bourke St Mall is where the big department stores are if that's your thing!) and then weaves it's way over the Yarra River and through the bayside suburbs of South Melbourne, Albert Park to St Kilda. You could walk along the beach there and have dinner at the Stokehouse outside if the weather is good.
Royal Exhibition Building- a World Heritage Site via
Any other suggestions of places to visit or must do in Australia?
I would get down to Tasmania. It's beautiful and quiet – the beaches are unbelievable and deserted. There's also MONA, (the Museum of Old and New Art) started by a local guy who is kind of an Asperger's genius – he made hundreds of millions gambling and put most of it into creating this gallery carved out of the sandstone on the banks of the Derwent River.
MONA on the Derwent River, Hobart. Image via
I know you've traveled to a lot of places this past year like India and Italy, any suggestions? What are some of your favorite places you've visited? Where would you like to travel next?
I want to see more of the US! I've only been to New York and some of the West Coast, I would love to see more.
I have done a bit of traveling in my time, and these have been my some of my favorites:
The glacial hot springs of Iceland (the ones at the north of the island are much smaller and quieter than the main one near the airport) – bright blue water steaming off the barren volcanic rock - surreal.
Essaouira in Morocco – blue and white renedered buildings, not a straight line in the place. I would love to go back to see more.
Petra in Jordan – my film wasn't loaded properly in my camera that day, so I have no photos, but the buildings carved out of the narrow gorges are amazing.
Paradise in New Zealand – this is a real place – on the South Island near Glenorchy. Imagine snow tipped mountain, the greenest grass you've ever seen, big glacial lakes and wildflowers. And a picnic.
India – a confounding place – I feel like I've seen the best and worst there, often in the same day! It's such an extreme place of beauty and ugliness. I always feel like I've been put through the ringer when I go there. But it is so rich in its culture, architecture and craftsmanship, I really love it.
Paradise, New Zealand
_________________________________________
What a great resource for the globe trekker in all of us!
Thank you so much Emily for sharing your story, favorite local spots and destinations!
It's clear how much travel and the world around you have influenced your designs and we're happy to showcase them in our shop.
Studio and New Zealand Images courtesy of Nancybird